On Air Now
Coming Up Next Hour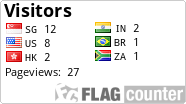 Venture Radio Listings
Advertisments
Loading ...
Please help one of our chosen charities PHAASE


 
 

 

Thank you to everyone who donated to PHAASE during the month of October we managed to raise £ 195 which was nearly 10% of the target, which is better than nothing and will help very much to reduce the vet bill a bit.  A big thank you goes to Jonno and the Jukebox Lotto which was decided to donate towards PHAASE, this was £ 140 thank you to all that was involved in that. You can still donate to PHAASE by visiting their website www.phaase.co.uk and clicking the Donate Now button. It's not just supermarkets that help PHAASE it's Ebay, Argos, Amazon, there are loads of stores.  Register with easyfunraising, click on the Gold button to the left or on the link below and register now.

Do you or know somebody who shops online this is another way people can help PHAASE and not costing them anything.  Visit their website and click on the link "Go Shopping Help PHAASE" the more the merrier.

Almost 3,000 retailers to choose from!

A Big thank you from PHAASE.
Welcome To Venture Radio
We are an online radio station with a huge variety of music from the past few decades up until today's music. You can check out our 24 hour schedule on the website so that you never miss your favourite programmes. If you like, leave us a message in our guestbook. We hope you enjoy listening and being involved.
Online 24/7 music from the decades.
Easy Ways To Get Involved
You can get in contact with the presenters via their email addresses which are listed on the 'Presenters' page. Also, some of the live presenters have their own chat room on their page. To make sure that you get your request guaranteed for a show, do it a few days before the show or early to make sure your song is played.
Available Presenters Slots
Are you a budding presenter and you would like to be on Venture Radio below are a list of the available slots that we have free at the moment, there might be a holding show there at the moment. If you think you have what it takes please send us a demo no more than 5 mins in length. We only need to hear you not the music except for intro's and outro's we do not want to hear a whole song. Once you have done that send it to mail@ventureradio.co.uk and we will let you know.
There are slots available NOW so send your demo in before its too late, they dont last long.
.
Recent News
Fusion UK are pleased to provide a website befitting a great radio station with a fantastic crew. George said "I tune in to Venture radio a lot while I am working on web development projects and I think it is better than many stations on FM. I have k...
Join our Newsletter
Register for the Venture Radio Newsletter, get the presenters take on what's hot and what's new. Produced exclusively for the listeners of Venture Radio.
Licensed to Broadcast
GreenRock Energy
GreenRock Energy are industry leaders in the field of reducing energy consumption for our clients. We have carried out over 10,000 Commercial Energy Assessments across the whole of the U.K.
ESOS Lead Assessor - Commercial EPC